Marriage! - the institution. Those were the days when my perception of marriage was something close to two-people-staying-in-one-house kinda deal. And now o'course... lots has changed in my basket! I'm on a new plain of living... discovering an unseen dimension. A new life... MY LIFE! In the process of growing up... I thought marriage was a compromise between two people on everything happening in each of their routines. Thanks to the filmdom I even thought that marriage is disastrous because it is impossible for two strangers to suddenly start living together as a family.

Naaah... Life ain't that harsh at you. You just need pick the right one! A true union is that of hearts and that of discovering what two individuals mean to each other. Understanding that the other person's happiness and sadness are now bonded with yours and that shouldering responsibilities together sincerely and faithfully is the essence of joyous living... makes a union more meaningful. The performance of series of rites and rituals is only an approval of the elders, the society and the divine, to accept the matrimonial union of the couple. The event of taking charge of an important office is essentially associated with an oath-taking ceremony. And so it happened when I took charge as Midhun's WIFE.


In presence of divine nature as witness, happened the amalgamation of our personalities on the 29th of August in world's most beautiful location. And there... our lives' big task of finding a true loyal companion was finally accomplished. We experienced a satisfaction that simply can't dwell in mere assembly of words. We bound it securely with these oaths of union from the Hindu culture.

MIDHUN'S OATHS:

1- DHARMA PATNEE MILITWAIVA, HYEKAM JEEVANAMAAVAYOH.
ADYAARABHYA YATO ME TWAMARDDHANGINEETI GHOSHITAA.
From this moment, declaring the bride as my better-half and amalgamating my personality with that of my wife, I am creating a new living entity. I shall take as much care of my wife, as I do for parts of my own body.
2- SWEEKAROMI SUKHEN TWAAM, RIHLAKSHMI MAHANTATAH.
MANATRAYITWAA VIDHAASYAAMI, SUKAARYAANI TWAYAASAH.
I am happily handing over the significant authority for financial management of my household to my wife promise to consider her views and suggestions in all of life significant.

3- ROOP SWAASTHYA SWABHAANTU, GUNADOSHAADEEN SARVATAH.
ROGAAGYAAN VIKAARAASHCHA, TAVA VISMRITYACHETASAH.
I shall not develop or nurture any aversion towards my wife on account of conditions related to her appearance, beauty, health, natural traits, disease or mistakes due to her ignorance. Nor shall I express discontentment in this context. I shall also maintain a cordial relationship with her by either patiently and lovingly making attempts for improvement in any shortcomings in her or make adjustments otherwise.

4- SAHACHARO BHAVISHYAAMI, POORNA SNEHAM PRADAAITE.
SATYATAA MAM NISHTHAA CHA, YASYAADHAARAM BHAVISHYATI.
I shall always be a close friend of my wife and also show maximum possible affection to her. I shall follow this pledge faithfully in letter and spirit.

5- YATHAA PAVITRA CHITTEN, PAATIVRATYAM DHRITAM VRATAM.
TATHAIV PALAYISHYAAMI, PATNIVRAT MAHAM DHRUVAM.
I shall strictly follow the codes of behavior specified for a husband in reciprocation of those made for a wife. I shall neither think of nor indulge in adultery.

6- GRIHASYAARTHA VYAVASTHAAYAAM, MANTRAYITWAA TWAYAA SAH.
SANCHAALANAM KARISHYAAMI, GRIHASTHOCHIT JEEVANAM.
In domestic matters, I shall let my wife have upper hand and adopt a life-style becoming of an ideal householder by making a family budget in consultation with my spouse.

7- SAMRIDDHI SUKH SHAANTINAAM, RAKSHANAAI TATHAA TAV.
VYAVASTHAAM SANKARISHYAAMI, SWA SHAKTI VAIBHAVAADIBHIIHI.
I shall faithfully utilize my strength and resources in making arrangements for pleasure, peace, progress and protection of my wife.

8- YATNASHEELO BHAVISHYAAMI, SANMAARG SEVITUM SADAA.
AAVAYOH MATBHEDAANSHCHA, DOSHAANSAN SHODHYA SHAANTTTAH.
I shall unilaterally make every possible effort to keep my own behavior towards my wife exemplary and resolve all differences and mistakes peacefully. I shall neither blame, insult nor ignore my wife in the company of other persons.

9- DEVAGNI SANMANUSHYAANAAM, SAANNIDHYE KRITANISHCHAYAH.
TWAAM PRATYAHAM BHAVISHYAAMI, SAHISHNUHU MRIDULASTATHAA.
With the divine powers, sacred fire and gentleman as witness, I take a pledge to be tolerant and soft spoken with my wife.

10-BHAVATYAAMASAMARTHAAYAAM, VIMUKHAA YAANCHA KARMANI.
VISHWAASAM SAHYOGANCH, MAM PRAAPASYASI TWAM SADAA.
I give an assurance that even in the event of my wife becoming infirm, invalid or finding her indifferent towards her responsibilities due to some reason, I shall not deviate in the least from my own responsibilities and continue to extend my cooperation to her.

11-MADHURAA PREM SANYUKTAAM, VAARTAA SATYAVYAVHRITIM.
DRIDHAM PATNIVRATMEKAM VACHO ME TAV SANNIDHAU.
I pledge to remain sweet and affectionate during conversation with my wife and in course of my behavior with her. I also promise to be strictly faithful to her.

RAMYA'S OATHS:

1- SWAJEEVANAM MELAYITWAA, BHAVATAH KHALU JEEVANE.
BHOOTWAA CHAARDHAANGINEE NITYAM, VASISHYAAMI GRIHE SADAA.
Amalgamating my life-style with that of my husband, I shall create a new entity of human existence. In this way I shall always be living as his true better-half (Ardhangini)

2- SHISHTATAA POORVAKAM SARVAIH, PARIWAAR JANAIH SAH.
AUDAARYEN VIDHAASYAAMI VYAVAHAARAM CHA KOMALAM.
I shall always consider all friends and members of my husband's family as integrated units of one system, maintain cordial relationship with all of them, serve them open heartedly and behave with them sweetly.

3- TYAKTVALASYAM KARISHYAAMI, GRIHKARYE PARISHRAMAM.
BHARTURHARSHAM HI GYAASYAAMI, SWEEYAAMEV PRASANNATAM.
Resisting indolence, I shall perform domestic chores laboriously. In this way, I shall extend appropriate cooperation to my husband in his progress and betterment of standard of living.

4- SHRADDHAYAA PAALAYISIIYAAMI, DHARMAM PAATIVRATAM PARAM.
SARVADAIVAANUKOOLYEN, PATYURAADESHAPAALIKA.
I shall remain faithful to my husband; be always favorable to him respectfully; shall never be hypocritical in my behavior towards him. I shall also make it a habit to follow his advice and instructions in letter and spirit promptly.

5- SUSHROOSHANAPARAA SWACHCHHAA. MADHURPRI YABHAASHINI.
PRATI JAANE BHAVISHYAAMI SATATAM SUKHADAAYINEE.
I shall cultivate virtues of selfless service, cleanliness, pleasantry and sweetconversation. On the other hand, I shall carefully avoid development of vices and bad habits like jealousy, nagging and grumbling. In this way, I shall always make my presence pleasurable.

6- MTI'AVYAYEN GAARHA STHYASANCHAALANE HI NITYADAA.
PRAYATISHYE CHA SOTSAAHAM, TAVA, AHAMANUGAAMMEE.
I shall manage domestics requirements by keeping the house-hold expenditure to a minimum. I shall avoid extravagance. In spite of my husband becoming financially or physically weak, I shall enthusiastically continue to follow disciplines of an ideal house-holder.

7- DEVASWAROOPO NAARINAM, BHARTAA BHAWATI MANAVAH.
MATVETITWAM BHAJISHYAMI, NIYATA JEEVANAA-VADHIM.
Regarding my husband as a representative of God, sent as a life-long companion, I shall overlook differences of opinion with him and remain active throughout my life in rendering services due of me. I shall never insult or ignore my husband publicly or privately.

8- POOJYAASTAVA PITARO YE, SHRADDHAYAA PARAMAA HI ME.
SEVAYAA TOSHAYISHYAAMI, TAANSADA VINAYEN CHA.
I shall always keep all those persons contented with my services and humility who are held in high esteem by my husband and are dear and near to him.

9- KADAAPI KWAAPI KIMAPI, KARISHYE NA PARANGMUKHEE.
PRATI JAANAAMI MAM CHA, TWAMEVA SARVAMEVA HI.
At all moments of life and under all circumstances, even on temporal estrangement, I shall continue to perform my duties towards my husband without expecting anything in return.
And herez something I found from smwhere and this sums all thatz in my heart...

In clear weather and in the fog,
when we're online and on our blog,
I will love him through thick and thin,
no matter what state we're in,
Through good and bad,
when glad or sad,
I will have, and I will hold
Ten years from now a thousandfold,
I promise to love as best I can,
my husband, my friend, this handsome man!

Yes, I will love this man of mine, For now and forever till the end of time!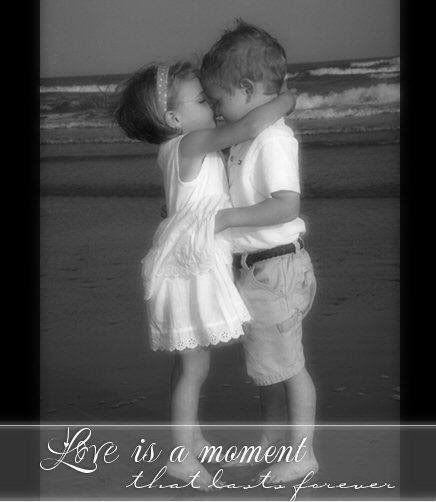 I do!